« Back to Results
Keith L. Kessler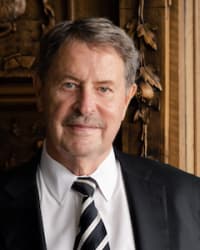 Attorney Profile
Top Rated Personal Injury Attorney in Hoquiam, WA
Phone: 206-561-9910
Fax: 360-532-8032
Selected To Super Lawyers:
1999 - 2021
Practice Areas:
Personal Injury - General: Plaintiff (60%),
Personal Injury - Products: Plaintiff (40%)
Attorney Profile
Eighth Grade.  Cars.  Rock & roll.  Movies.  TV.   Perry Mason.
And a debate in class over the American Revolutionary War -- the Colonies' right to separate and self-govern versus compliance with British Rule.  Teams of three students against three.  Assuming the likely  pro-American bias of the class, I volunteered to take up the British cause.  I worked with my team to prepare, thoughtfully developing our strategy.  When the time came, I rose to my feet.  I argued well.  And we won. 
The in-class disruptive humor of that 13-year-old boy made teaching difficult over the course of that year.  But at the end of class that day of the debate, Mr. Ritch pulled me aside. His words pushed me over the top. "Have you thought about being a lawyer?"
I never looked back.
Learning the Rules in Real Time.  Fresh out of my first year of law school, I was hired by the Snohomish County Prosecutor's  Office.   End of my second year – still just a law student – I was actually trying cases in court as a Rule 9 Legal Intern.  There I learned courtroom procedure and the Rules of Evidence the hard way – on my feet with real people, taking on real lawyers.  I loved court.
Supreme Court Clerk.  Justice Robert Corpening Finley was a giant as a progressive jurist, whose remarkable opinions reflected deep thought and a good heart.  I first met Justice Finley at the Meany Hotel in Seattle.  I had applied for a job as his Law Clerk – very presumptuous on my part.  Nevertheless, right there at the Meany, he offered me a clerkship.  One of nine Supreme Court Clerks in the State of Washington.  I walked home on air.
Fresh out of law school, I researched every case, statute and rule across the country that was at all relevant to Justice Finley's analysis on every one of his decisions on behalf of the court.  That's how you really learn to research. 
One case – State v. Spence – involved an act of First Amendment speech by a Viet Nam War protester.  Eight of the nine Supreme Court Justices upheld his conviction for improperly displaying the flag.  Justice Finley was the lone dissenter.  When the United States Supreme Court unanimously reversed the conviction, the two of us went straight to the Brown Derby down the street from the Temple of Justice in Olympia, had ice cream (seriously), and cheered. 
The Soviet Union and Stritmatter.  After the excitement of serving as a Supreme Court Law Clerk, I practiced criminal defense trial work in Seattle, securing dismissals of charges in drug cases because police officers failed to "knock and announce", or because they conducted searches and seizures without a warrant.  Holding the government accountable.  In spite of a 100% success rate, I grew tired of this field of practice, and looked for something more.   
It happened. 1979.  Moscow Bar Exchange.  After arriving in Russia, I learned that nothing operated on schedule.  Effectively abandoned at the Moscow Airport, I stuffed a bag with whatever I could find and … Voila!  Football on the tarmac.  The opposing quarterback vigorously threw passes that stalled in the oncoming wind.  Undeterred, he passed with increasing force until his abused rotator cuff put an end to his blind ambition.
Over the course of the next several days, through his pain and drug-induced haze, he and I talked of victories in the courtroom and the key to winning – extraordinary preparation.
Three months later I joined Paul Stritmatter and his father Lester in Hoquiam – a far-off land on the Washington Coast.  March 10, 1980 proved to the be the launch of a legal juggernaut that would, over time, not only come to the aid of people who'd been injured by the negligence of others, but would challenge state and local governments to address and correct hazardous road conditions – from superior courts to the Washington Supreme Court to the Supreme Court of the United States.  
The Family.  What can be more rewarding than loving what you do?  Answer: Practicing law with your brilliant son and daughter.  Side by side with Jamie working with me to build the case.  Brad next to me in the courtroom presenting our injured client's critical needs.  While I address responsibility for the traumatic brain injury, spinal cord quadriplegia or wrongful death. 
I'm incredibly proud of the intelligence and winning attitude of our team, and our victories over the years. 
Making a Difference.  Fundamental to all of my work is the drive to change negligent attitudes and eliminate transportation hazards facing the public, whether highways, bicycle routes, railroad crossings, or airline and helicopter operations.
I love what I get to do.
Every day.
Practice Areas
60%

Personal Injury - General: Plaintiff

40%

Personal Injury - Products: Plaintiff
Focus Areas
Motor Vehicle Accidents, Personal Injury - Plaintiff, Wrongful Death, Brain Injury, Motor Vehicle Defects, Products Liability
Selections


Super Lawyers: 1999 - 2021
Certificates and Credentials
Email Me
To: Keith L. Kessler
Super Lawyers: Potential Client Inquiry
Articles about Keith L. Kessler appearing in Super Lawyers
Additional Sources of Information About Keith L. Kessler
About Keith Kessler
Admitted: 1972, Washington
Professional Webpage: https://www.stritmatter.com/keith-kessler
Honors/Awards:
Listed in "The Best Lawyers of America", 1995 - Present

, Best Lawyers

Rated AV (highest available rating)

, Martindale-Hubbell

Trial Lawyer of the Year, 1994

, Washington State Association for Justice

Named as Top 100 Super Lawyer in Washington State, 2004, 2006, 2008 - 2009, 2011 - 2015

, Super Lawyer

Awarded Fellowship in the American College of Trial Lawyers, 2004

, (Top 1% of Trial Attorneys in the United States)

Outstanding Plaintiff Trial Lawyer, 2002

, Washington Defense Trial Layers

Personal Injury Litigator, 2011

, Seattle Area Best Lawyers
Bar/Professional Activity:
Trial Lawyers for Public Justice

Washington State Bar Association (WSBA)

Lawyers-Pilots Bar Association

Washington State Association for Justice (WSAJ), President

American College of Trial Lawyers

American Association for Justice (AAJ)

Washington State Supreme Court: "Appointed to the Jury Instructions committee by the Washington State Supreme Court, 2000 - present, Clerk for Justice Robert C. Finley

Damage Attorneys Roundable: President, 2002

American Board of Trial Advocates: President of Washington Chapter, 1997

Evergreen State College: Board of Trustees, appointed by the Governor of Washington State, 2008 - Present

,

2008
Scholarly Lectures/Writings:
Chapter Author, AUTOMOBILE ACCIDENT LITIGATION DESKBOOK (Washington State Trial Lawyers Association -- 2000)

"Fraternity Cliff-Diving Rush Event Has Tragic Ending" (December 1990) co-author: Paul L. Stritmatter

Chapter Author, AUTOMOBILE LITIGATION DESKBOOK (Washington State Bar Association -- 1990)

"County's Failure to Install $75 Stop Sign at Railroad Crossing Results in Huge Verdict" (May 1994)

Bicycle Litigation Strategy - Roadway Safety Cases (2014), (Keith's presentation to various Bicycle Litigation groups)

"CR 35 Does Not Authorize Testing by Defense Vocational Counselors" (October 2002) co-author: Ray W. Kahler

Washington Motor Vehicle Accident Deskbook , © WSBA 2001, chapter author, " Highway Design, Abutting Landowners and Public Utilities"

"Government Secrecy – From 'Homeland Security' to Simple Raw Data About Car Accidents", TRIAL NEWS (May 2003) (reprinted inAutomobile Accidents, Highway and Premises Liability Section, Association of Trial Lawyers of America, Volume 9, Number 3, Summer 2003)

"Picture-perfect Settlement Videos", TRIAL – (Association of Trial Lawyers of America -- April 2006)

"Median Barriers: Earth Berms and Cable Rails – Cheap; Lives Lost – Priceless", TRIAL NEWS (Volume 43, Number 1, September 2007)

"Open Government: Sure, we'll give you public records – only of you agree in writing that you'll never use them against us.", TRIAL NEWS (Volume 43, Number 8, April 2008) (Keith provides insights from the Gendler case).

Washington Motor Vehicle Accident Litigation Deskbook, © WSBA 2009, chapter author, "Post-Trial Motions"

"Roadway Liability Cases" (Suing the Government, Washington State Bar Association -- January 1996)

Co-Chair, Business Torts Seminar ("Cutting Edge of Business Torts", Washington State Trial Lawyers Association -- February 1985)

Co-Chair and Speaker, Best of CLE Seminar "The Role of the Attorney in Video Production and Presentation" (Washington State Trial Lawyers Association -- December 1989)

Co-Chair and Speaker, Videotape/Computer Animation Seminar, "Cutting Edge of Technology" (Washington State Trial Lawyers Association -- January 1989)

Co-Chair and Speaker, Business Torts Update Seminar, "Civil Rule 11: Practice and Pitfalls" (Washington State Trial Lawyers Association -- May 1987)

"Negotiating and Settlement Techniques" (Clark County Bar Association, Vancouver, WA -- January 1990)

"Coordinating Expert Witnesses and Using Demonstrative Evidence" (Handling the Traumatic Brain Injury Case, Washington State Head Injury Foundation -- April 1990)

"Use of Demonstrative Evidence to Prove Brain Injury" (All You Need to Know About Head Injury Cases, Washington State Trial Lawyers Association -- April 1991)

"Discovery Motions: Offensive and Defensive Strategies" (Effective Motions Practice: "How to Plan, Write, Argue and Win, Washington State Trial Lawyers Association -- November 1991)

"Struck Jury System Coupled with Special Written Questionnaires" (The Struck Jury System: What is it? How does it work? Where does it fit?, Washington State Trial Lawyers Association -- April 1992)

"Closing Argument in the Traumatic Brain Injury Case" (Traumatic Brain Injury: Rocognizing, Documenting and Proving the Brain Injury Case, Washington State Trial Lawyers Association -- May 1993)

"Highway Design – Limited Funds for Repairs" (Luvera Seminar, Washington State Trial Lawyers Association -- July 1993)

"Computer-Generated Simulations/Animations" (A Paperless Trial, Washington State Attorney General Paralegal/Investigator Seminar -- December 1994)

"Highway Design: Duty to Maintain Safe Roads Exists Independent of Alleged Budgetary Constraints" (Tort Law Update: Unabridged and Unplugged, Washington State Trial Lawyers Association -- October 1995)

"Settlement as Malpractice: Converting Tortfeasors Into 'Empty Chair' Entities at the Expense of the Fault-Free Plaintiff" (Hot Topics, Washington State Trial Lawyers Association -- May 1995)

"Personal Injury Legislation: Return to Sovereign Immunity" (DART Convention, Sedona, Arizona – March 2002)

"Computer-Generated Demonstrative Trial Exhibits" (Corning's Kernels of Wisdom, Washington State Trial Lawyers Association Annual Convention -- July 1996)

Co-Chair, The Trial – EVIDENCE (Washington State Trial Lawyers Association -- November 1996)

"Telling Your Story: The Goals and Strategies for Opening Statements and Closing Arguments" (How To handle and Win Your First Trials, Washington State Bar Association -- January 1997)

"Direct Examination of Plaintiff" – Masters in Trial Program (American Board of Trial Advocates -- May 1998))

"Thinking Outside the Box" (Techniques of Persuasion and Other Topics) DART Convention, Corrib at Cong, County Mayo, Ireland – May 1999)

"Challenges to Plaintiff's Vocational Expert's Analysis: The Daubert Tentacles Continue to Extend" (DART Convention, Sicily -- May 2000)

"The Impact of Cell Phone Use on Driver Attention" (DART Convention, Maui, Hawaii -- May 2001)

"Settlement Videos – The Next Generation" (The Paris Seminar, Washington State Trial Lawyers Association, Paris, France – September 2001)

"Government Secrecy – From 'Homeland Security' to Simple Raw Data About Car Accidents" (DART Convention, Costa Rica -- February 2003)

"Maintaining Professionalism and Advocacy in Civil Litigation" (Professionalism in Civil Litigation, Washington Defense Trial Lawyers Seminar, Harrison Hot Springs, British Columbia, Canada – July 2002)

"Maintaining Professionalism and Advocacy in Civil Litigation" (Professionalism in Civil Litigation, Washington Defense Trial Lawyers Seminar, Harrison Hot Springs, British Columbia, Canada – July 2002)

"Guillen/Whitmer v. Pierce County, et al.: How to Get Public Documents through Discovery" (Torts in Transition, Washington State Trial Lawyers Association – September 2002)

Panel of Attorneys/Judge: "What Do Attorneys and Judges Expect from Reporters?" (Washington Court Reporters Convention, Ocean Shores, WA – October 2002)

"The Nuts and Bolts of Jury Instructions" (Trial Stars, Washington State Trial Lawyers Association – December 2002)

"Leveling the Playing Field: How to Beat Basic Problems During Jury Selection" (Motions Practice Seminar, Washington State Trial Lawyers Association – September 2003)

"Ethical Considerations" (Washington State Trial Lawyers Association – March 2003)

Co-Chair and Speaker, "Careful Use of the Juror Questionnaire" (Dealing with Tort Reform, DART Convention -- June 2005)

"From Opening Statement to Jury Deliberation" – Masters in Trial Program (American Board of Trial Advocates – October 2003)

"Setting the Stage for a Sharp Presentation" (The Power of Negotiation & Mediation, Washington State Trial Lawyers Association – November 2003)

"Bench Trial Strategies" (DART Convention, Sardinia, Italy – April 2004)

Co-Chair and Speaker, "Anatomy of a Automobile Accidents – From Investigation to Courthouse Steps" (Washington State Bar Association – September 2004)

"Successful Use of Experts" (Auto Cases Seminar, Washington State Trial Lawyers Association -- March 2005)

Co-Chair and Speaker, "Traumatic Brain Injuries – The Incredible Journey" (Washington State Trial Lawyers Association – June 2007)

"Interviewing Witnesses for Maximum Impact in Settlement Videos/DVDs" (Association of Trial Lawyers of America Annual Convention, Toronto – July 2005)

"Advanced Settlement Presentation Techniques" (Advanced Settlement Issues Seminar, Washington State Trial Lawyers Association – October 2005)

"Scary Machines – Scissor Lifts, Cranes, Forklifts and Riding Mowers" (Winning Your Product Liability Case, Washington State Trial Lawyers Association – October 2005)

"It's Not My Fault and I Don't Have To" -- Highway Design and Maintenance (Auto Case; Just the Facts, Washington State Trial Lawyers Association – March 2006)

"Accessing Government Documents – Special Issues" WSP & DOT Records (Not Above the Law; The Government as the Defendant, Washington State Trial Lawyers Association – April 2006)

Co-Chair and Speaker, "The Visual Trial: PowerPoint/Video/Computer-Created Exhibits" (DART Convention, Maui, Hawaii -- April 2006)

Co-Chair and Speaker, "Auto Crash Cases – Winning With Cutting Edge Technology" (Washington State Bar Seminar – August 2006)

"Fighting To Disgorge Public Records – The Determined Motion to Compel Discovery" (DART Convention, Mallorca Spain – May 2007)

"Failure to Mitigate Damages as a Component of Contributory Fault" (DART Convention, Los Cabos – April 2009)

"Three Keys to Success in Aquatic Injury Cases: Recreational Immunity, Alcohol and Venue in Hell" (DART Convention, LaQuinta – April 2008)

Speaker, "Beyond the Crash: Focusing on Other Responsible Tortfeasors" (Washington State Trial Lawyers Association – April 2008)

Chair and Speaker, Planes, Trains & Automobiles – "Beyond the Crash: The Thundering Behemoth: Locomotive v. Human" (Washington State Trial Lawyers Association – September 2008)

Speaker, Cutting Edge of Tort Law -- "Accessing Public Records to Hold Government Accountable for Bad Roads" (Washington State Trial Lawyers Association – October 2008)
Educational Background:
University of Washington, B.A., Philosophy, 1969
Show More
Keith L. Kessler:
Last Updated: 4/8/2021