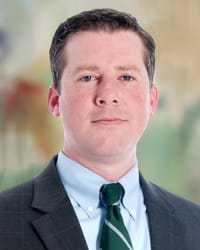 Elk & Elk Co., Ltd.
Practice Areas: Medical Malpractice, Personal Injury; view more
Licensed in Washington since: 2014
Education: University of Cincinnati College of Law

Selected to Super Lawyers: 2020, 2022 - 2023

Selected to Rising Stars: 2010 - 2019

Free Consultation
Elk & Elk Co., Ltd.
1000 Second Avenue
Suite 2940
Seattle, WA 98104
Visit website
Details
Egan is licensed to practice in the states of Washington and Ohio and is fortunate to actively practice in both venues. He is principal attorney for Elk & Elk at the Seattle-Tacoma office and focuses his practice upon pursuing claims for those suffering injury caused by medical negligence, nursing home negligence, as well as trucking and automobile negligence.  He has first-chaired numerous wrongful death, catastrophic injury and complex medical malpractice jury trials to verdict, most recently obtaining a unanimous verdict in Tacoma, Washington resulting in a $1,700,000 recovery on behalf of his client.  He has also litigated many files in a first-chair capacity where he obtained six an seven figure settlements prior to trial, most recently a $2,500,000 settlement in Washington in a case involving an alleged delay in diagnosis of cancer.
Egan began his career at a respected medical malpractice and insurance defense firm, where he gained valuable experience and insight into the manner by which injury claims are evaluated and defended. He also served as Judicial Staff Attorney for the Cuyahoga County Court of Common Pleas, assisting Judge Harry Hanna, Judge Leo Spellacy, and former Ohio Supreme Court Justice Francis E. Sweeney. 
Egan is honored to be selected to Super Lawyers in 2020, previously he was recognized as a Washington Super Lawyers "Rising Star" for 2016 through 2020 and for his Ohio Super Lawyers "Rising Star" recognition for the years of 2010 through 2015, a distinction conferred upon no more than 2.5% of the attorneys in the state.  He is a lifetime member of the Multi-Million Dollar Advocates Forum, of which fewer than 1% are admitted as members.
Practice areas
Personal Injury - Medical Malpractice: Plaintiff, Personal Injury - General: Plaintiff
Focus areas
Animal Bites, Birth Injury, Brain Injury, Construction Accident, Delayed or Incorrect Diagnosis, Medical Malpractice, Motor Vehicle Accidents, Personal Injury - Plaintiff, Premises Liability - Plaintiff, Trucking Accidents, Wrongful Death
50% Personal Injury - Medical Malpractice: Plaintiff

50% Personal Injury - General: Plaintiff
First Admitted: 2005, Ohio
Professional Webpage: https://www.elkandelkseattle.com/attorney/kilbane-egan-patri...
Representative Clients:
Egan's practice focuses individuals across the full socioeconomic spectrum who have suffered injuries due to medical negligence, products liability, auto and trucking accidents, and other general liability scenarios.
Bar/Professional Activity:
Ohio State Bar Association

Ohio

,

2005

Kentucky

,

2006

Kentucky Bar Association

U.S. Dist. Ct. - S.D. Ohio

,

2006

Cleveland Metropolitan Bar Association

U.S. Dist. Ct.- N.D. Ohio

,

2009

Ohio Association for Justice

U.S. Bankruptcy Ct.- S.D. Ohio

Cleveland Academy of Trial Attorneys

Washington

,

2014

Washington State Bar Association

Washington State Association for Justice- "Eagle" Member

U.S. District Court, W.D. Washington

,

2019

Snohomish County Bar Association

,

2020

King County Bar Association

,

2021
Verdicts/Settlements (Case Results):
$6,300,000 – Patient suffered hypoxic brain injury in post-operative recovery room due to failure to timely recognize respiratory distress and intubate the patient. Verdict was reduced pursuant to tort reform damage caps.

$2,500,000 Settlement - Washington - Delay in diagnosis of cancer

,

2021

$1,700,000 – Trial verdict result, medical malpractice. A 69-year-old Washington woman suffered a permanent spinal cord injury leaving her a functional paraplegic while a patient at Multicare Good Samaritan Hospital.

$1,000,000 - Confidential Settlement

,

2020

$875,000 – Worksite injury. Result for an Ohio man who suffered bleeding in the brain after he was struck in the head with a falling piece of equipment.

$750,000 –Deceased client who succumbed to complications following vascular injury during elective, minimally invasive surgery to address gastro-esophageal reflux (GERD). During the procedure, the surgeon unknowingly cut her portal vein, hepatic artery and common bile duct. After the injury was recognized she received a liver transplant, but was unable to recover and died of complications secondary to massive blood loss.

$530,000 – Result for estate of patient who succumbed to complications due to hypocalcemia due to the inadvertent and unrecognized removal of her parathyroid glands.

$500,000 - Washington - Confidential Settlement

,

2021

$480,000 – Trucking crash. An Ohio man suffered a traumatic brain injury after his tractor-trailer – stopped in severe winter weather – was struck at a high rate of speed by another tractor-trailer. His brain injury left him unable to continue his decades-long career of over-the-road trucking.

$425,000 – Client suffered pelvic, hip, wrist and clavicle fractures after a car illegally turned left in front of his motorcycle.

$400,000 – Result for client who suffered brain injury during endoscopic sinus surgery to address chronic sinusitis

$362,500 – Motor vehicle crash. Client suffered a broken leg that led to arthritis and, ultimately, a total knee replacement.

$300,000 – Paraplegic client suffered a fractured leg and severe healing complications after he fell out of his wheelchair while being transported in an ambulette due to driver's failure to appropriately secure him. Co-Counsel: Chris Wallace

$275,000 – Pedestrian injury. A Washington woman suffered a broken leg when she was hit by a car while crossing the street in a marked crosswalk. 

$237,500 – Medical negligence. A Michigan woman passed away in a hospital when a medication error led to bleeding complications after a liver biopsy.

$225,000 Settlement - Unrestrained passenger ejected in rollover accident 

,

2021

$225,000 – Motor vehicle crash. A New York man was thrown from his car and died when another vehicle entered his lane of travel, causing both vehicles to overturn and collide.

$225,000 – Product liability. An Ohio woman suffered severe lacerations and rtendon injuries when a canister used to prepare whipped cream exploded in her hand. 

$190,000 – Result for client who suffered a fractured ankle in left-of-center motor vehicle collision

$190,000 – Result for estate of client who suffered a hip fracture at a nursing home and subsequently passed away

$180,000 Settlement - Confidential Settlement 

,

2019

$169,000 – Client suffered a lumbar disc herniation in a minor property-damage, rear-end automobile collision.

$160,000 – Motor vehicle/train accident. A man suffered bruising to his leg and subsequent complications of compartment syndrome after the van in which he was riding turned in front of the LINK light rail, causing the train to strike the van.  

$150,000 – Motor vehicle accident. A Washington woman suffered a herniated disc in her neck when she struck a vehicle that had negligently turned left in front of her when she had the right of way.

$150,000 – Result for estate of patient who suffered from progression of a decubitus, "pressure ulcer" while in a nursing facility, and subsequently passed away

$149,500 – Motor vehicle accident. A woman suffered a triangular fibrocartilage tear in her wrist and a traumatic brain injury after a vehicle lost control in icy weather and rear-ended her car.

$145,000 - Confidential Settlement

,

2021

$120,000 – Result for client who suffered a compound fracture from an undocumented fall incident. Complications from the fracture necessitated amputation

$100,000 Settlement - King County, Washington - Policy limits settlement for client who sustained a fractured vertebra in her neck during a car crash

,

2019

$100,000 Settlement - Seattle, Washington - Passenger in MVA suffered dental injuries and sprain/strains

,

2021

$100,000 Settlement - King County, Washington - Policy limits settlement for client suffering aggravation of pre-existing joint pain during a car crash

,

2020

$100,000 – Client suffered internal injuries (pelvic fracture, thoracic vertebra fracture, lacerated liver, lacerated spleen) when the intoxicated driver of the car he was occupying failed to control.

$100,000 – Result for client who suffered aggravation of pre-existing cervical spine problems following minor property-damage rear-end automobile collision

$100,000 – Result for client who suffered severe spinal and closed head injuries in failure-to-yield automobile accident

$100,000 – Result for client who suffered a fractured wrist after she fell from a "courtesy" golf cart at the county fair when the driver accelerated unexpectedly

$95,000 – Result for client who suffered an aggravation of pre-existing back injuries when she stepped through a poorly maintained floor panel at a business

$85,000 – Result for client who suffered chronic respiratory irritation after riding bicycle through chemical cloud caused by plant's failure to appropriately contain hazardous chemicals

$80,000 – Result for client who suffered temporomandibular joint dysfunction and closed head injury in rear-end automobile collision

$70,000 Settlement - Oak Harbor, Ohio - Settlement for young girl who sustained lacerations when bitten by a dog

,

2019

$75,000 – Result for client who suffered eye injuries, abrasions on the left side of neck, left arm pain, numbness of the right leg and a back injury when struck in a fail to yield at a stop sign

$70,000 – Trip and fall. An Ohio woman suffered a broken ankle after she tripped and fell on the steps to her rented home, which was below code and not properly maintained.

$65,000 Settlement - Grays Harbor County, Washington - Settlement for client suffering back and neck sprain/strain injuries in a car crash

,

2019

$63,000 – Verdict for client that suffered soft-tissue injuries in a low property-damage, rear-end automobile collision

$60,000 – Result for client who suffered aggravation of pre-existing back injuries when automobile he was an unrestrained backseat passenger ran off of road

$59,500 – Result for client that suffered fractured collarbone when his motorcycle was run off the road while passing a commercial pickup truck and trailer

$58,000 – Result for client who suffered soft-tissue injuries and aggravation of pre-existing arthritis to her knee after slipping on water in a convenience store caused by store's failure to fix leaking cooler

$55,000 – Result for client who suffered a fractured hip after a slip and fall on grease inside of a restaurant

$55,000 – Result for client who suffered food poisoning and severe complications following contaminated meal at a restaurant

$50,000 Settlement - Whatcom County, Washington - Policy-Limits settlement for client suffering aggravation of pre-existing back pain during a car crash

,

2020

$50,000 – Motor vehicle crash. An Arizona man suffered whiplash and soft-tissue injuries when the vehicle he was riding in was rear-ended by another motor vehicle.

$50,000 – Motor vehicle crash. A Washington woman suffered whiplash and soft-tissue injuries when the vehicle she was driving was rear-ended by another motor vehicle.

$50,000 – Motor vehicle crash. An Ohio man suffered bruising and cuts in a head-on collision with a tractor-trailer in Washington State.

$45,000 – Result for client who suffered symptomatic plica, an aggravation to soft-tissue within the knee that requires arthroscopic surgery, after a failure to yield automobile accident

$45,000 – Motor vehicle crash. A man suffered a torn labrum in his hip when his vehicle was struck by another car that failed to yield at an intersection.

$42,500 – Result for client who suffered a fractured ankle when he was struck by an automobile while riding his bicycle

$42,500 – Result for client who suffered a head injury when a horse broke free during a race and slammed into a gate that struck the client because the gate was not properly secured/maintained

$40,000 Confidential Settlement 

,

2021

$37,000 – Result for client who suffered a fractured wrist when a neighbor's dog knocked him down

$36,000 – An Ohio tractor-trailer driver suffered a torn meniscus in her knee when her tractor-trailer was struck by a motor vehicle traveling left of center in Washington State.

$27,500 – Result for client who sustained sprain/strain injuries and concussion when rear-ended by an automobile driven by an intoxicated driver
Educational Background:
University of Cincinnati College of Law

,

2005

University of Notre Dame, South Bend, IN

,

2002
Scholarly Lectures/Writings:
Special focus on medical negligence

,

Work Product: Division 3 Shields Draft Reports, WA Adopts a Formal Waiver Rule and the Common Interest Doctrine

,

Washington State Association for Justice Trial News

,

2020

"The Fight Within The Fight; Issues Arising At Trial" - Winter Convention: Medical Malpractice Section

,

2014

Medical Malpractice - Medical Malpractice 101: Overview of Medical Liability Cases

,

2012

National Union v. Wuerth and Erwin v. Bryan - Ohio Association for Justice - 2010 Annual Convention

,

2010

Is John Doe Dead? Summary and Practical Considerations for 'John Doe' Practice – Erwin Webinar

,

2010
Honors/Awards:
Who's Who In America

,

Marquis Who's Who

,

2021

Top 100 Trial Lawyers - Civil Plaintiff

,

National Trial Lawyers Top 100

,

2021

,

Top 100 Trial Lawyers - Civil Plaintiff

,

National Trial Lawyers Top 100

,

2020

Super Lawyer

,

Washington Super Lawyers

,

2020

,

Top 100 Trial Lawyers - Civil Plaintiff

,

National Trial Lawyers Top 100

,

2019

Rising Star

,

Washington Super Lawyers

,

2019

Top 100 Trial Lawyers - Civil Plaintiff

,

National Trial Lawyers Top 100

,

2018

Rising Star

,

Washington Super Lawyers

,

2018

Top 100 Trial Lawyers - Civil Plaintiff

,

National Trial Lawyers Top 100

,

2017

Rising Star

,

Washington Super Lawyers

,

2017

,

Top 100 Trial Lawyers - Civil Plaintiff

,

National Trial Lawyers Top 100

,

2016

Rising Star

,

Washington Super Lawyers

,

2016

Top 100 Trial Lawyers - Civil Plaintiff

,

National Trial Lawyers Top 100

,

2015

Rising Star

,

Ohio Super Lawyers

,

2015

Rising Star

,

Ohio Super Lawyers

,

2014

Rising Star

,

Ohio Super Lawyers

,

2013

Multi-Million Dollar Advocates Forum

,

Top Trial Lawyers In America

Million Dollar Advocates Forum

,

Top Trial Lawyers In America

Top 40 Under 40

,

National Trial Lawyers

Rising Star

,

Ohio Super Lawyers

,

2012

Rising Star

,

Ohio Super Lawyers

,

2011

Rising Star

,

Ohio Super Lawyers

,

2010

4.3/5.0 BV Distinguished Martindale-Hubbell® Peer Review Rating™

Moot Court Honor Board

,

University of Cincinnati College of Law

,

2005
Office location for Egan Kilbane
1000 Second Avenue
Suite 2940
Seattle, WA 98104
Phone: 206-209-0855
Selections
Super Lawyers: 2020, 2022 - 2023
Rising Stars: 2010 - 2019
Additional sources of information about Egan Kilbane
Attorney resources for Egan Kilbane