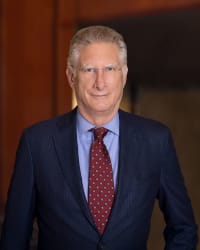 Keller Rohrback L.L.P.
Practice Areas: Class Action & Mass Torts, Antitrust Litigation, Environmental view more
Licensed in Washington since: 1986
Education: University of Wisconsin Law School

Selected to Super Lawyers: 1999 - 2023
Details
Managing Partner Lynn Sarko uses thoughtful innovation to solve complex issues.
Having led Keller Rohrback L.L.P.'s Complex Litigation Group since its inception over 30 years ago, Lynn's work has led to new developments in case law and significant, impactful settlements for his clients. 
A dynamic leader with a tenacious dedication to justice, Lynn has been selected by courts across the nation to serve in key leadership roles in a wide variety of cutting-edge cases. Namely, he was appointed Co-Lead counsel for In re EpiPen (Epinephrine Injection, USP) Mktg., Sales Practices & Antitrust Litigation, MDL No. 2785 (D. Kan.), the nationwide class action against pharmaceutical company Mylan and others for anticompetitive and unfair business practices in its sale and marketing of the EpiPen Auto-Injector device. He was also selected to serve in a leadership position on behalf of governmental entities and other plaintiffs in the vast litigation regarding the nationwide prescription opioid epidemic, In re National Prescription Opiate Litigation, MDL No. 2804 (N.D. Ohio). The National Law Journal referred to this leadership team as a "'Who's Who' in mass torts."
Some of Lynn's other remarkable successes include consumer protection cases aimed at holding automotive companies accountable for wrongdoing. One such case was In re Volkswagen "Clean Diesel" Marketing, Sales Practices, and Products Liability Litigation, MDL No. 2672 (N.D. Cal.), for which Lynn was appointed to the Plaintiffs' Steering Committee—a group referred to as a "class action dream team." The case settled for over $17 billion. Lynn was also appointed to the Plaintiffs' Steering Committee for In re Chrysler-Dodge-Jeep EcoDiesel Marketing, Sales Practices, and Products Liability Litigation, MDL No. 2777 (N.D. Cal.), which settled for $307.5 million, including required emissions modifications for 100,000 eligible vehicles. In addition to consumer protection cases, Lynn has also served in leadership positions for cases involving financial fraud and breaches of fiduciary duty. He was selected to lead teams of attorneys representing plaintiffs in the litigations against Enron, Worldcom, and Madoff—three of the biggest financial frauds of our time.
Lynn is widely renowned within the legal community and beyond for his diplomacy and fearless devotion to justice. He was a member of the legal team nominated for the 2016 Nobel Peace Prize for seeking enforcement of the Nuclear Non-Proliferation Treaty on behalf of the Republic of the Marshall Islands. He was also honored to receive the Trial Lawyers for Public Justice Trial Lawyer of the Year Award for his work on the Exxon Valdez Oil Spill trial team, and he was one of four Washington lawyers recognized as one of the 500 "Leading Lawyers in America" by Lawdragon. He is also AV-rated by Martindale-Hubbell and has been consecutively named to the Washington Super Lawyers list for 21 years.
Lynn holds a BBA and an MBA in accounting and finance from the University of Wisconsin, where he also served as an accounting instructor. He graduated with his J.D. from the University of Wisconsin Law school, where he was Editor-in-Chief of the Wisconsin Law Review and received the faculty award given to the most outstanding member of the graduating class.
Prior to joining Keller Rohrback, Lynn was an Assistant United States Attorney for the District of Columbia, Criminal Division, an associate at the Washington D.C office of Arnold & Porter, and law clerk to the Honorable Jerome Farris, United States Court of Appeals for the Ninth Circuit, in Seattle.
Practice areas
Class Action/Mass Torts: Plaintiff, Antitrust Litigation, Environmental, Employee Benefits

First Admitted: 1981, Wisconsin

Professional Webpage: http://www.krcomplexlit.com/attorney/lynn-sarko/

Other Outstanding Achievements:
Social Venture Partners of Santa Barbara, Founding Partner 
American Academy of Trial Counsel, Fellow 
Scholarly Lectures/Writings:
American Conference Institute's 6th National Forum on ERISA Litigation

25th Annual ERISA Litigation Conference

American Conference Institute's 5th National Forum on ERISA Litigation

AAJ Education Trends in Litigation Seminar: "Volkswagen Diesel Emissions Fraud- Potential Classes, Causes of Action, Remedies, and Defenses"

Case Perspectives Lecture: Plains Oil Spill Litigation, UCLA Law School

AAJ panel – Plaintiff Only Hot Topics and Trends in Litigation Seminar, New Orleans

Global Justice Network Presentation re Volkswage , San Francisco

ACI 9th ERISA Litigation Conference,  Chicago

Enforcement of ERISA Rights and Responsibilities:  An ERISA @40 Event, Washington, D.C.

HarrisMartin's MDL Conference: Volkswagen Update

HarrisMartin's MDL Conference: Volkswagen Clean Diesels – Update from Plaintiffs' PSC Chair and Steering Committee Members on the Environmental Issues

Emory Roundtable Conference in Atlanta, Georgia, hosted by  Institute for Complex Litigation & Mass Claims, Emory University School of Law

Speaker

,

ABA Winter Meeting Employee Benefits Committee

,

2010

Speaker

,

Real Estate Mortgage Market Litigation

,

2010

Speaker

,

ERISA Litigation 2010, Practising Law Institute

,

2010

Speaker

,

24th Annual Producer Conference on Executive Liability

,

2011

Thomson/West Webinar, "Stock Drop and Roll: Key Supreme Court Rulings and New Standards in ERISA 'Stock Drop' Cases"

14th Annual Pension Law, Governance and Solvency Conference

Canadian Institute's 14th Annual Advanced Forum on Pension Law, Governance and Solvency

ERISA Litigation & Regulatory Compliance Congress
Bar/Professional Activity:
American Bar Association, Member

Admitted to U.S. District Court for the District of Colorado

,

1997

King County Bar Association, Member

Admitted to U.S. District Court for the District of Michigan

,

2002

Washington State Bar Association, Member

Admitted to District of Columbia

,

1983

The Association of Trial Lawyers of America, Member

Admitted to U.S. Supreme Court

,

1984

Admitted to U.S. District Court for the Western District of Wisconsin

,

1981

Admitted to U.S. District Court for the Western District of Washington

,

1986

Admitted to U.S. Court of Appeals for the Tenth Circuit

,

1984

Admitted to U.S. District Court for the Eastern District of Wisconsin

,

1988

Federal Bar Association, Member

Admitted to U.S. Court of Appeals for the Third Circuit

,

2001

Trial Lawyers for Public Justice, Member

Admitted to U.S. Court of Appeals for the Ninth Circuit

,

1982

Admitted to U.S. Court of Appeals for the Eleventh Circuit

,

2003

American Association for Justice, Member

Admitted to U.S. Court of Appeals for the Fourth Circuit

,

1984

Admitted to Wisconsin

,

1981

Admitted to U.S. District Court for the Eastern District of Washington

,

1986

Admitted to U.S. Court of Appeals for the Seventh Circuit

,

1984

Admitted to U.S. District Court for the District of Columbia

,

1986

Bar Association of The District of Columbia, Member

Admitted to U.S. District Court for the District of Arizona

,

1998

State Bar of Wisconsin, Member

Admitted to U.S. Court of Appeals for the Fifth Circuit

,

2003

Washington State Trial Lawyers Association, Member

Admitted to U.S. Court of Appeals for the District of Columbia Circuit

,

1983

American Academy of Trial Counsel, Fellow

Admitted to U.S. Tax Court

,

1985

Admitted to U.S. District Court for the District of Columbia

,

1984

Admitted to U.S. Court of Appeals for the First Circuit 

,

1986
Educational Background:
University of Wisconsin - M.B.A.

,

1978

University of Wisconsin - B.B.A.

,

1977
Honors/Awards:
Salmon Dalberg Award

,

1981

Trial Lawyer of the Year

,

Trial Lawyers for Public Justice

Lawdragon 500 Leading Lawyers in America

,

2018

Avvo Top Tax Lawyer

,

Washington CEO Magazine
Verdicts/Settlements (Case Results):
Hodges, et al. v. Bon Secours Health System, Inc., et al., No. 16-cv-1079 (D. Md.)Lynn serves as co-lead counsel in this litigation. Plaintiffs' alleged that Defendants' claim that the seven defined benefit pension plans of Bon Secours Health System, Inc. were exempt from ERISA's protections because they were "church plan(s)" was improper because Bon Secours is not controlled by or associated with a church, and the plans are not maintained by a permissible "principal purpose organization," as ERISA requires. On December 21, 2017, the Court granted final approval of a settlement providing for equitable relief, plus payment of over $98 million.,

2017

Griffith, et al. v. Providence Health & Services, et al., No. 14-cv-1720 (W.D. Wash.)Lynn serves as co-lead counsel in this litigation. Plaintiffs alleged that Defendants' claim that the Providence Health pension plan was exempt from ERISA's protections because it was a "church plan" was improper because Providence Health is not a church, and the plan was not established by a church. On March 21, 2017, the Court granted final approval of a class settlement in the amount of $351.9 million, which included a payment of $350 million to the Plan and a guarantee that the Plan's trust will have sufficient assets to pay benefits as they come due, as well as additional administrative protections and other equitable relief for plan participants.,

2017

1990 - 2006:  Deiter v. Microsoft Corp., 436 F.3d 461 (4th Cir. 2006) Unger v. Amedisys Inc., 401 F.3d 316 (5th Cir. 2005) Phillips v. Scientific-Atlanta, Inc., 374 F.3d 1015 (11th Cir. 2004) Newby v. Enron Corp., 394 F.3d 296 (5th Cir. 2004) In re Bassett, 285 F.3d 882 (9th Cir. 2002) In re IKON Office Solutions, Inc., 277 F.3d 658 (3rd Cir. 2002) United States v. Kincaid, 898 F.2d 110 (9th Cir. 1990) In re Enron Corp. Sec., Derivative & "ERISA" Litig., MDL-1446, — F. Supp. 2d —, 2006 U.S. Dist. LEXIS 50129, 2006 WL 2034461 (S.D. Tex. July 20, 2006) Strigliabotti v. Franklin Res., Inc., 398 F. Supp. 2d 1094 (N.D. Cal. 2005) Brever v. Federated Equity Mgmt. Co., 233 F.R.D. 429 (W.D. Pa. 2005) Woods v. Southern Co., 396 F. Supp. 2d 1351 (N.D. Ga. 2005) In re Delphi ERISA Litig., 230 F.R.D. 496 (E.D. Mich. 2005) In re Williams Companies ERISA Litig., 231 F.R.D. 416 (N.D. Okla. 2005) In re Enron Corp. Sec., Derivative & "ERISA" Litig., 228 F.R.D. 541 (S.D. Tex. 2005) In re Polaroid ERISA Litig., 362 F. Supp. 2d 461 (S.D.N.Y. 2005) Gallus v. Am. Express Fin. Corp., 370 F. Supp. 2d 862 (D. Minn. 2005) In re WorldCom, Inc. ERISA Litig., 354 F. Supp. 2d 423 (S.D.N.Y. 2005) In re CMS Energy Erisa Litig., 225 F.R.D. 539 (E.D. Mich. 2004) In re Global Crossing Sec. & ERISA Litig., 225 F.R.D. 436 (S.D.N.Y. 2004) In re Elec. Data Sys. Corp. "ERISA" Litig., 224 F.R.D. 613 (E.D. Tex. 2004) In re Lucent Techs., Inc. Sec. Litig., No. 00-621, 327 F. Supp. 2d 426 (D.N.J. 2004) Hill v. BellSouth Corp., 313 F. Supp. 2d 1361 (N.D. Ga. 2004) In re Dynegy, Inc. ERISA Litig., 309 F. Supp. 2d 861 (S.D. Tex. 2004) In re Healthsouth Corp. Ins. Litig., 219 F.R.D. 688 (N.D. Ala. 2004) In re Williams Cos. ERISA Litig., 271 F. Supp. 2d 1328 (N.D. Okla. 2003) Ferko v. NASCAR, 216 F.R.D. 392 (E.D. Tex. 2003) Hansen v. Ticket Track, Inc., 213 F.R.D. 412 (W.D. Wash. 2003) In re Scientific-Atlanta, Inc. Securities Litigation, 239 F. Supp. 2d 1351 (N.D. Ga. 2002) In re Enron Corp. Securities, Derivative & ERISA Litigation, 235 F. Supp. 2d 549 (S.D. Tex. 2002) In re Providian Fin. Corp. Erisa Litig., No. 01-05027, 2002 U.S. Dist. LEXIS 25676, 2002 WL 31785044 (N.D. Cal. Nov. 14, 2002) In re AremisSoft Corp. Sec. Litig., 210 F.R.D. 109 (D.N.J. 2002) In re Microsoft Corp. Antitrust Litigation, 185 F. Supp. 2d 519 (D.Md. 2002) Erickson v. Bartell Drug Co., No. 00-1213, 141 F. Supp. 2d 1266 (W.D. Wash. 2001) In re 2TheMart.com Secs. Litig., 114 F. Supp. 2d 955 (C.D. Cal. 2000) Griffith v. American Home Prods. Corp., 85 F. Supp. 2d 995 (E.D. Wash. 2000) Getty v. Harmon, 53 F. Supp. 2d 1053 (W.D. Wash. 1999) In re Potash Antitrust Litig., 954 F. Supp. 1334 (D. Minn. 1997) In re Commercial Explosives Litig., 945 F. Supp. 1489 (D. Utah 1996) In re Exxon Valdez, No. 89-0095, 1996 U.S. Dist. LEXIS 8173, 1996 WL 384623 (D. Alaska June 11, 1996) In re Amino Acid Lysine Anti-trust Litig., 918 F. Supp. 1190 (N.D. Ill. 1996) In re Immunex Sec. Litig., 864 F. Supp. 142 (W.D. Wash. 1994) In re Potash Antitrust Litigation, 866 F. Supp. 406 (D. Minn. 1994) In re Carbon Dioxide Antitrust Litig., 149 F.R.D. 229 (M.D. Fla. 1993) Halvorson v. Skagit County, No. 92-692, 1993 WL 169164 (W.D.Wash. Mar. 24, 1993) In re Domestic Air Transp. Antitrust Litig., 137 F.R.D. 677 (N.D. Ga. 1991) Transamerican Refining Corp. v. Dravo Corp., 130 F.R.D. 70 (S.D. Tex. 1990)
In Re: Volkswagen "Clean Diesel" Marketing, Sales Practices, and Products Liability Litigation MDL 2672 (N.D. Cal.)Lynn is a member of the Plaintiffs' Steering Committee and served on the settlement negotiation team in the Volkswagen "Clean Diesel" multidistrict litigation, in which Plaintiffs alleged that Volkswagen intentionally and systematically cheated its customers, lied to the government, and misled the public about the emissions of its diesel engine vehicles sold under the Volkswagen, Audi and Porsche brands. The Court granted final approval to a partial class settlement worth $10.03 billion in October 2016, and a second partial class settlement valued between $1.2 billion and $4.1 billion in May 2017.,

2017

Lann, et al. v. Trinity Health Corporation, et al., No. 14-cv-2237 (D. Md.)Lynn serves as co-lead counsel in this litigation. Plaintiffs' alleged Defendants' claim that the Trinity Health pension plan was exempt from ERISA's protections because it was a "church plan" was improper because, among other things, Trinity Health is not a church, and the Trinity Health pension plan was not established by a church. On May 31, 2017, the Court granted final approval of a settlement providing for equitable relief, plus payment of over $76 million. ,

2017
Selections
Super Lawyers: 1999 - 2023
Additional sources of information about Lynn L. Sarko
Attorney resources for Lynn L. Sarko