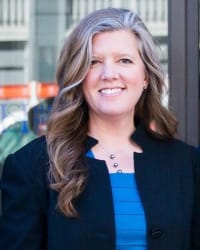 Haddad & Sherwin LLP
Practice Areas: Civil rights
Licensed in California since: 1997
Education: Wayne State University Law School

Selected to Super Lawyers: 2006, 2008 - 2023

Virtual Appointments
Haddad & Sherwin LLP
505 Seventeenth Street
Oakland, CA 94612
Visit website
Details
Julia Sherwin is a nationally prominent civil rights trial lawyer and partner at Haddad & Sherwin LLP, https://haddadandsherwin.com/julia-sherwin, in Oakland, California.  She has successfully tried and settled numerous high profile, cutting-edge cases in federal and state courts.  She began her career in Detroit, Michigan, at the nation's first racially integrated law firm.  Julia represents clients throughout Northern and Central California, from the Oregon border to Fresno.
Some examples of Julia's cases include:
•  The largest civil rights wrongful death settlement in California history at the time ($8.3 million) for the beating and restraint asphyxia (a/k/a positional asphyxia) death of a jail inmate who was suffering from severe alcohol withdrawal, plus first-in-the-nation reforms requiring not only Alameda County but also its for-profit jail medical contractor to provide Registered Nurses or higher level caregivers for all patient assessments throughout the State of California;
•  $11.5 million for a jail inmate rendered quadriplegic by deliberately indifferent healthcare providers working for a for-profit corporation contracted to care for county jail inmates;
•  $7.3 million settlement for the children of a man who was severely beaten, choked, and stomped by police then forced into a prone position with weight on his back, similar to George Floyd, until he died;
•  $6.7 million catastrophic injury settlement for a Mom who was permanently disabled by police who broke into her home and smashed her ankle after she insisted that they get a warrant before entering her home to arrest her teenage daughter;
•  $5.85 million after winning a trial, for victims of the Oakland Police Department's unconstitutional policy allowing officers to strip search people in public; 
•  $5.5 million for a man who was brutalized and had both of his hands crushed by deputies as he surrendered to them;
•  $5.1 million for a mentally ill man who had been declared incompetent to stand trial and was beaten to death by another severely mentally ill man, while he waited for Napa State Hospital and the California Department of State Hospitals to comply with a court order committing him to their custody and requiring them to admit him for inpatient psychiatric treatment.
•  $5 million for the death of 3-year-old Kayleigh Slusher, along with sweeping reforms to the Napa Police Department's child abuse and neglect policies and training, which will save children's lives in the future;
•  $5 million for the jail beating and restraint asphyxiation death of a schizophrenic man in psychiatric crisis, plus a new county-wide Crisis Intervention Team (CIT) training program for deputies to safely handle contacts with mentally ill people, mandatory police use of body-worn video cameras in all contacts with the public, as well as new policies and training on the dangers of prone restraint and to prevent restraint asphyxia or compression asphyxia;
•  $4.35 million present value in 2005, for the failure to diagnose a cardiac condition in a 9-year-old boy;
•  a case obtaining the State of California's first mandatory training program and curriculum in public schools to combat homophobia and sexual orientation discrimination, followed by over $1 million after winning trial for a high school teacher who was disciplined and threatened with termination for protecting LGBT students from harassment;
•  the first case nationally to recognize the First Amendment rights of Administrative Law Judges to make decisions free of outside pressure.
Julia is the former longtime Vice-President and Board Member for the National Police Accountability Project (NPAP), and a former Lawyer Representative to the Ninth Circuit Court of Appeals and Northern District of California Judicial Conferences.  As a Lawyer Representative, she organized the "Civil in Name Only" CLE at the 2013 Northern District of California Judicial Conference and provided model professionalism guidelines for consideration by the Court, which resulted in the Court adopting its Guidelines for Professional Conduct (http://www.cand.uscourts.gov/professional_conduct_guidelines). She is a member and Past Board Member (2007) of the Consumer Attorneys of California, a member of the San Francisco Trial Lawyers Association (SFTLA), and Past President (2007) and a former longtime Board member of the Alameda Contra Costa Trial Lawyers Association (ACCTLA). She also served as a Board member for the Detroit chapter of the National Lawyers Guild and as a Barrister with the American Inns of Court.  Julia is a Councilor with Save the Redwoods League, https://www.savetheredwoods.org/. She is the founder of Walls of Justice, https://www.wallsofjustice.com/, an online community forum and gallery dedicated to honoring artists demanding police and social justice reform in the wake of George Floyd's murder by Minneapolis Police Officers.
Julia is admitted to practice in both California and Michigan.
Julia has long been Rated AV Preeminent* by the prestigious peer-review service Martindale-Hubbell.
*AV-Preeminent and BV-Distinguished are certification marks of Reed Elsevier Properties Inc., used in accordance with the Martindale-Hubbell certification procedures, standards and policies. Martindale-Hubbell is the facilitator of a peer review rating process. Ratings reflect the confidential opinions of members of the Bar and the judiciary. Martindale-Hubbell ratings fall into two categories – legal ability and general ethical standards.
Practice areas
Civil rights
First Admitted: 1995, Michigan
Professional Webpage: https://haddadandsherwin.com/julia-sherwin
Bar/Professional Activity:
Leadership Council Member, Save the Redwoods League

Founder, Walls of Justice, https://www.wallsofjustice.com/ 

,

2020

Board of Governors, Consumer Attorneys of California

,

2007

Past Executive Board Member, Detroit chapter of the National Lawyers Guild

San Francisco Trial Lawyers (SFTLA)

Barrister, American Inns of Court

,

1996

Board Member, National Police Accountability Project, 2010 to 2018

President, Alameda Contra Costa Trial Lawyers Association

,

2007

Past Board Member, Downtown Oakland Association

Bar Association of San Francisco (BASF)

Speaker, International Congress on Law and Mental Health, Vienna, Austria

,

2015

Executive Committee, Detroit Chapter of the National Lawyers Guild

,

1996

Former Vice-President, National Police Accountability Project, 2016-2018

Admitted to practice law in Michigan

,

1995

The Association of Trial Lawyers of America (ATLA, now called AAJ)

Admitted to practice law in California

,

1997

Executive Committee Member, National Police Accountability Project, 2014 to 2018

Lawyer Representative, 9th Circuit Judicial Conference and Northern District of California Judicial Conference, 2012, 2013, 2014
Pro bono/Community Service:
2019 to the present, Volunteer Leadership Council member for Save the Redwoods League, https://www.savetheredwoods.org/

Former longtime Board member, Executive Committee member, and Vice-President for the National Police Accountability Project, and ran the organization's CLE program for ten years.

Former Volunteer Board member, Downtown Oakland Association
Honors/Awards:
Northern California Super Lawyers, San Francisco Magazine, 2006, 2008, 2009, 2010, 2011, 2012, 2013, 2014, 2015, 2016 & 2017

Community Service Award

,

American Arab Anti-Discrimination Committee

,

1999
Educational Background:
University of Michigan, Ann Arbor, A.B. with Class Honors, Double Major in Anthropology and Germanic Linguistics & Literature

,

1990
Scholarly Lectures/Writings:
Julia Sherwin spoke at the third International Death in Custody conference in September 2020.  The conference had 197 participants from 27 countries in attendance.  Ms. Sherwin spoke about deaths in law enforcement custody, and debunked the junk science theory of "excited delirium."

,

Speaker

,

Deaths in Custody in the United States

,

Law, Medicine, Forensic Pathology, Law Enforcement

,

2020
Verdicts/Settlements:
$7.3 million for the children of a man who was severely beaten, choked, stomped, and then forced into a prone position with weight on his back, similar to George Floyd, by Pittsburg, California, police officers.

,

2020

$2.5 million for the death of a 16-year-old boy who was shot by police while he was intoxicated.

,

2019

$5.1 million for the family of a schizophrenic man who was denied mental healthcare by Santa Rita Jail officials, then beaten to death by another severely mentally ill inmate who also was not receiving mental healthcare.

,

2019

$217,000 verdict for Type 1 diabetic Mr. Universe who was beaten by Redwood City police officers while he was in insulin shock, 2011

$11.5 million for a jail inmate who was rendered quadriplegic by the deliberately indifferent care provided by the employees of a county's for-profit correctional healthcare contractor.

,

2019

$5 million for the beating and restraint asphyxia death of a schizophrenic man in psychiatric crisis, plus a new county-wide Crisis Intervention Team (CIT) training program to help deputies safely handle encounters with the mentally ill, mandatory use of body-worn video cameras for police officers in all contacts with the public, and new policies and training on the dangers of prone restraint and to prevent restraint asphyxia or compression asphyxia.

,

2019

$5 million for the death of 3-year-old Kayleigh Slusher, plus sweeping reform to the Napa Police Department's policies and training for child abuse and neglect investigations, which will save children's lives in the future.

,

2018

Perry v. McGinnis, 209 F.3d 597 (6th Cir. 2000)

The first jury verdict in the country for a public entity's deliberately indifferent failure to train its employees about language-based discrimination

,

2000

$2.6 million wrongful death settlement for a botched SWAT raid by the Monterey County Sheriff's Department.

,

2013

$4.35 million present value ($10.9 million structured) medical malpractice settlement for failure to diagnose a serious cardiac condition in a 9-year-old boy

,

2005

$5.85 million after trial for 44 men who were strip searched in public by Oakland police officers, in addition to the Court striking down the Oakland Police Department's policy allowing public strip searches as unconstitutional.

,

2012

Judgment as a matter of law, verdict, and final judgment over $340,000 in favor of two sisters who were held at gunpoint by West Sacramento police officers

,

2009

$5.5 million for a man severely beaten by two Alameda County Sheriff's deputies, crushing both of his hands as they protected his head from deadly force blows from the deputies' batons.

,

2017

$1.6 million for the 80-year-old mother of a disabled woman who was shot in the back by Salinas police officers.

,

2010

$412,500 settlement for San Francisco 49ers fan whose elbow was broken by an Oakland Police officer at an Oakland Raiders-49ers game, 2011

Lead counsel on a case of first impression nationally to recognize the First Amendment rights of Administrative Law Judges to make decisions free of outside pressure (Perry v. McGinnis, 209 F.3d 597 (6th Cir. 2000)),

2000

$1.6 million for the mother of a schizophrenic man who committed suicide in Siskiyou County jail.

,

2012

The State of California's first mandatory training program in public schools to combat discrimination and harassment against gay and lesbian students and teachers, followed by an emotional distress damages verdict of $500,000 and ultimately a $1.1 million settlement for a teacher who was disciplined for protecting gay and lesbian students

,

2001

$1.5 million for the parents of a Bipolar man who was beaten and asphyxiated to death by Richmond police officers.

,

2011

$360,000 settlement for a schizophrenic man who was beaten by San Jose police officers

,

2009

$3.5 million present value settlement for the wife and young son of an Oakland Police Officer who was killed by "friendly fire"

,

2006

$1.1 million verdict, including $100,000 in punitive damages, against a San Mateo County Sheriff's deputy who sent his police dog to attack a senior citizen who was helping his friend look for her cat.

,

2017

$205,000 verdict plus a finding for punitive damages liability for two men who were strip searched on the street by Oakland police officer Ingo Mayer, with 39 more clients' cases pending, 2011

Successfully opposed mandatory employment arbitration in the leading case in the Michigan Supreme Court at the time (Heurtebise v. Reliable Business Computers, Inc., 452 Mich. 405 (1996), cert. den. 520 U.S. 1142 (1997)),

1997

$8.3 million settlement during trial: the largest civil rights wrongful death settlement in California history, plus comprehensive reforms to Corizon Health, Inc.'s jail medical practices, requiring registered nurses or higher level caregivers to do all nursing assessments in all California facilities where Corizon does business, along with mandatory and regular training of Alameda County Sheriff's deputies on health related matters.

,

2015

Sweeping police crowd control policy changes and substantial damages settlements for six Plaintiffs who were injured by the Oakland police at a peace demonstration at the Port of Oakland

,

2006

Heurtebise v. Reliable Business Computers, Inc., 452 Mich. 405, 550 N.W. 2d 243 (1996), cert. den.

$1.5 million present value settlement ($4.55 million structured) for the parents and posthumously born daughter of a young man who was shot in the back and killed by an Oakland Police Officer

,

2009

$2.2 million wrongful death damages plus policy and training changes requiring the Fresno Police Department to reform its deadly force policy to require an officer to face an immediate threat before shooting a person, to require officers to assess the need for every shot before shooting, and to require investigators to consider and include in their reports the statements of eyewitnesses that contradict officers' versions of what happened during an incident.

,

2016

$1.2 million verdict in favor of the mother of a schizophrenic man who was shot and killed by Fairfield and Vacaville police officers

,

2001

$6.7 million for a completely innocent mother who insisted Santa Clara police officers obtain a warrant before entering her home to arrest her teenage daughter.  In retaliation, the officers broke into her home, swung her around and smashed her ankle on the outside wall of her home, causing permanent, debilitating injuries.

,

2017
White Papers:
Julia Sherwin is one of five co-authors of the Physicians for Human Rights Report, Excited Delirium and Deaths in Police Custody:  The Deadly Impact of a Baseless Diagnosis, which debunks the junk science theory of "excited delirium."  The report summarizes Julia Sherwin's two decades of work and research into the racist and sexist roots of the theory, and also exposes Taser International and Axon Enterprises' role in perpetuating the junk science theory of "excited delirium.",

Excited Delirium and Deaths in Police Custody: The Deadly Impact of a Baseless Diagnosis

,

Forensic Pathology, Victims of Police Misconduct, Excited Delirium Junk Science, Medicine, Law, Corrections, Law Enforcement

,

2022
Industry Groups:
Catastrophically injured victims of police and jail misconduct
Families of people who die at the hands of police or jail officials
police and jail misconduct wrongful death claimants
Office location for Julia Sherwin
505 Seventeenth Street
Oakland, CA 94612
Phone: 510-452-5500
Selections
Super Lawyers: 2006, 2008 - 2023
Articles about Julia Sherwin by Super Lawyers
Life Partners
Additional sources of information about Julia Sherwin
Attorney resources for Julia Sherwin